With a breakthrough in technology, investors and architectural designers will have more choices for aluminum door colors, aluminum facade frames. In particular, after the fluctuations of Covid -19 the trend of promoting space decoration to bring a sense of comfort, relaxation, safety and peace has become popular to create positive motivation for high work performance. .
Instead of just sticking to neutral colors, white is now very popular, light tones are easy to coordinate with furniture and easier to choose accent colors.
In the top color of the XTDA system, white is probably the color that brings the most peaceful and pure feeling. This is also the reason why white is chosen a lot in the overall of villas, apartments and resorts.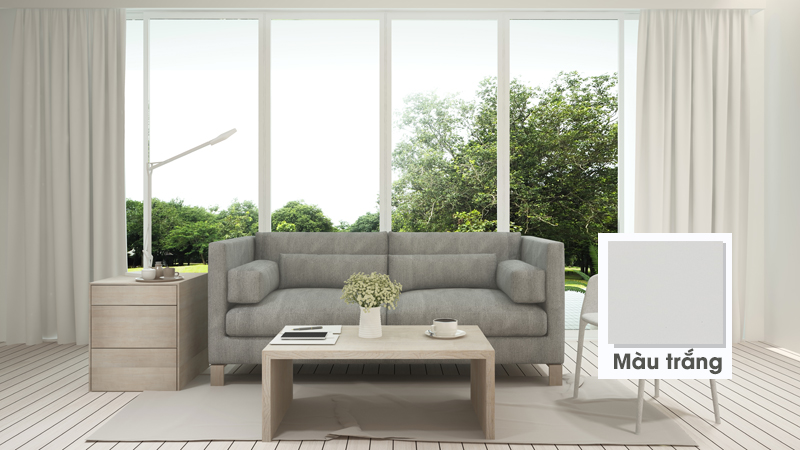 (White color system XTDA)
Why is XTDA white so popular??

Smooth, glossy surface
Applying modern electrostatic painting technology and a team of technicians with many years of experience bring standard gloss paint quality. Smooth surface, high durability.
The gloss of the product is certified to the reference standard GB/T9754 with test results accounting for 23%.

Limit dust, easy to clean
The smooth surface of the XTDA system reduces the possibility of dust and dirt, making cleaning faster and easier. Overcoming 90% of the limitation of white color that is easy to catch dirt and dust.

Bringing a feeling of luxury and prosperity
White color gives a feeling of luxury and prosperity because of its shine and reflective nature, creating outstanding luxury.

Easy to coordinate with many different types of architecture
White has been very popular for several years now. Light tones are easy to coordinate with furniture and easier to choose accent colors. White doors stand out more than other interior and exterior products. At the same time, the white color is extremely harmonious with the exterior, giving the building a luxurious and aristocratic look.
CONTACT INFO
Tien Dat Aluminum Co., Ltd
Tel: 028.3729.1230
Email: tiendat.nhom@gmail.com
Web: https://xingfatda.com/
Address: 51/2 Be Van Dan, Binh Duong 3, An Binh Ward, Di An City, Binh Duong Province.
Factory: Lot 216, Suoi Sau Hamlet, Dat Cuoc Commune, Tan Uyen District, Binh Duong Province
Showroom: 324D Ly Thuong Kiet, Ward 14, District 10, City. Ho Chi Minh City
#Nhmaynhom #XingfaTDA #TIENDAT #XTDA #Xingfa #Nhomcaocap