XTDA 63 . sliding folding door
XTDA 63 aluminum system is xingfa aluminum system manufactured at Tien Dat Aluminum Factory with ISO 9001:2015 standard process. The product is certified to meet the standards using the conformity mark on the product packaging. The 63 sliding folding system is a type of door with many wings, the opening type slides on rails and folds into the corner of the wall. With this easy folding opening and closing mechanism, your space expands, saving optimal space.
Aluminum profile is designed with hollow spaces, standard thickness to bring high bearing capacity.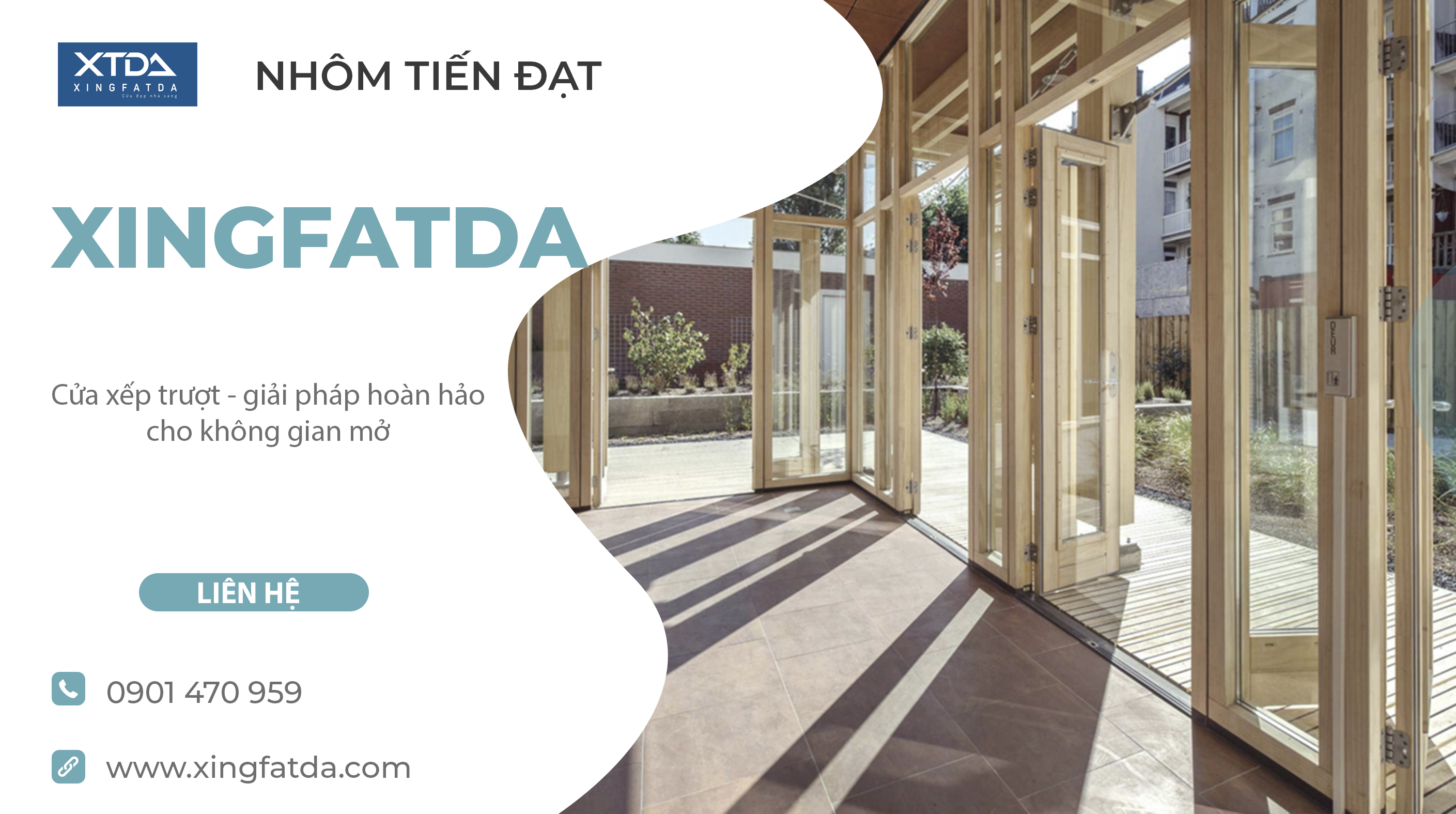 Outstanding advantages of sliding aluminum doors
With each design of rotating, sliding, opening or sliding, each has its own advantages and disadvantages. However, to be suitable for large spaces, sliding doors have some outstanding advantages such as:
Safe, solid and durable to use
Sliding doors have a relatively large number of wings, which is very suitable for restaurants with large spaces. However, to ensure the load as well as the ability to operate smoothly and safely, you should choose to install a sliding model from 4 to 6 wings. Standard aluminum profile, combined with high-grade tempered glass and synchronized accessories create a solid, extremely good-strength system that comprehensively protects your home against the effects of the weather.
have high beauty
Clean, square lines combined with natural light create the perfect resonance to brighten up your living space. The XTDA 63 sliding folding door is considered a modern new design with a fairly new operation, very suitable for unique spaces that like novelty. Powder coating technology with a diverse color palette brings more choices to consumers.
Save space, maximum power
One advantage that this door model is commonly used for in villas and restaurants is the ability to save space and maximize electricity. With the aluminum and glass door system bringing a large amount of natural light into the room, homeowners will limit power consumption during the day. Besides, when opening the door, it can be folded into the corner of the wall to save a lot of space.
With the advantages of sliding folding doors, XTDA 63 is widely used for large spaces, is the perfect solution for the entrance to the main door, door to the pool and garden...
Contact Hotline: 0901 470959 for more specific advice on XTDA products!
CONTACT INFO
Tien Dat Aluminum Co., Ltd
Tel: 028.3729.1230
Email: info@nhomtiendat.com
Web: https://xingfatda.com/
Address: 51/2 Be Van Dan, Binh Duong 3, An Binh Ward, Di An City, Binh Duong Province.
Factory: Lot 216, Suoi Sau Hamlet, Dat Cuoc Commune, Tan Uyen District, Binh Duong Province
Showroom: 324D Ly Thuong Kiet, Ward 14, District 10, City. Ho Chi Minh City
#Nhamaynhom #XingfaTDA #TIENDAT #XTDA #Xingfa #Nhomcaocap